Dashboard
What is the Web Dashboard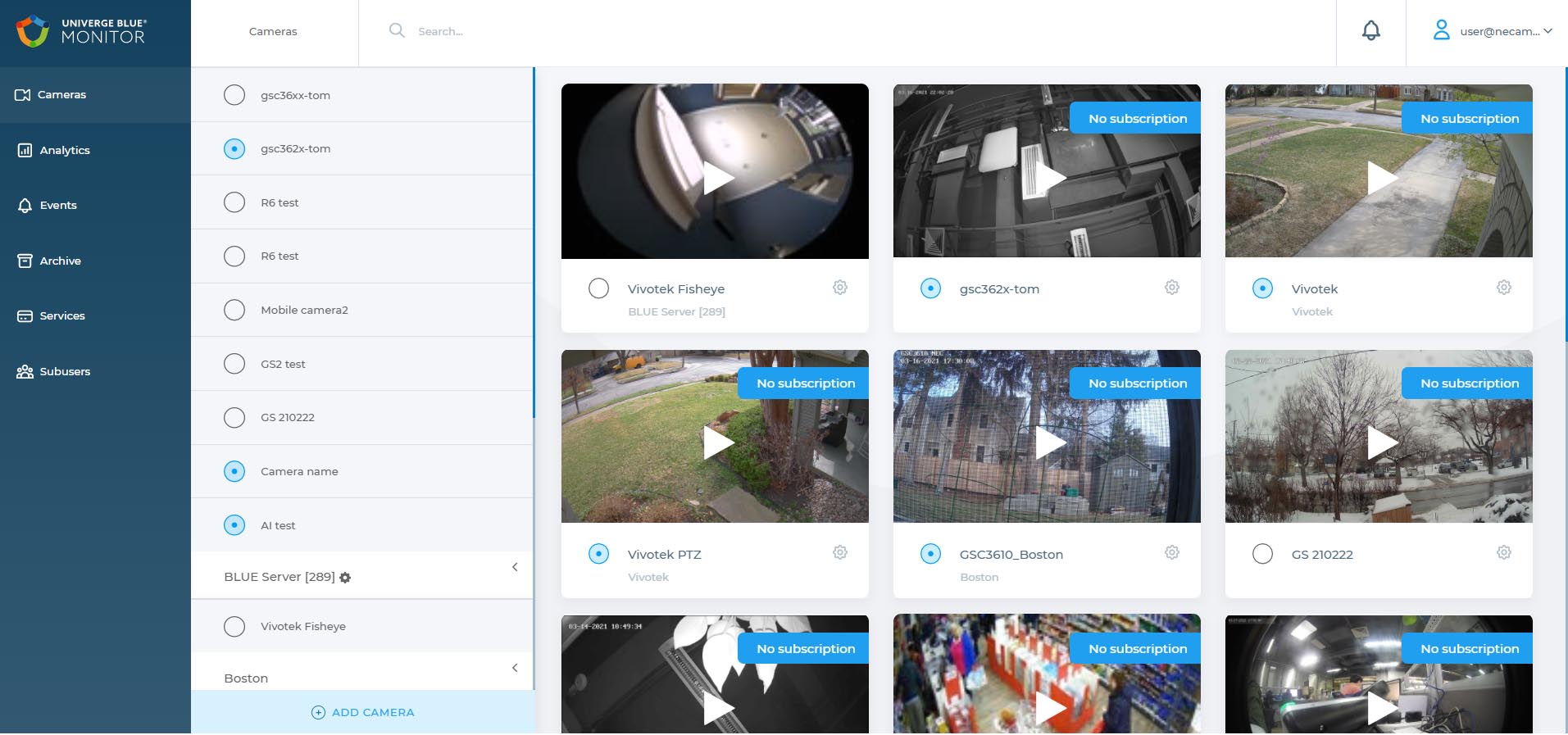 The Web Dashboard is where you will
Login: Web Interface (https://nec.bluemonitor.net/ )
View Recordings
See Events
Share Videos
Playback Videos
Archive Important Video Clips
Shop Cameras
Add Monthly Services
2 Main Areas for UNIVERGE BLUE MONITOR Cloud
Dealer – Allows the Dealer to manage and troubleshoot their User Accounts
User – User Portal to view Camera Video
Login or Create an Account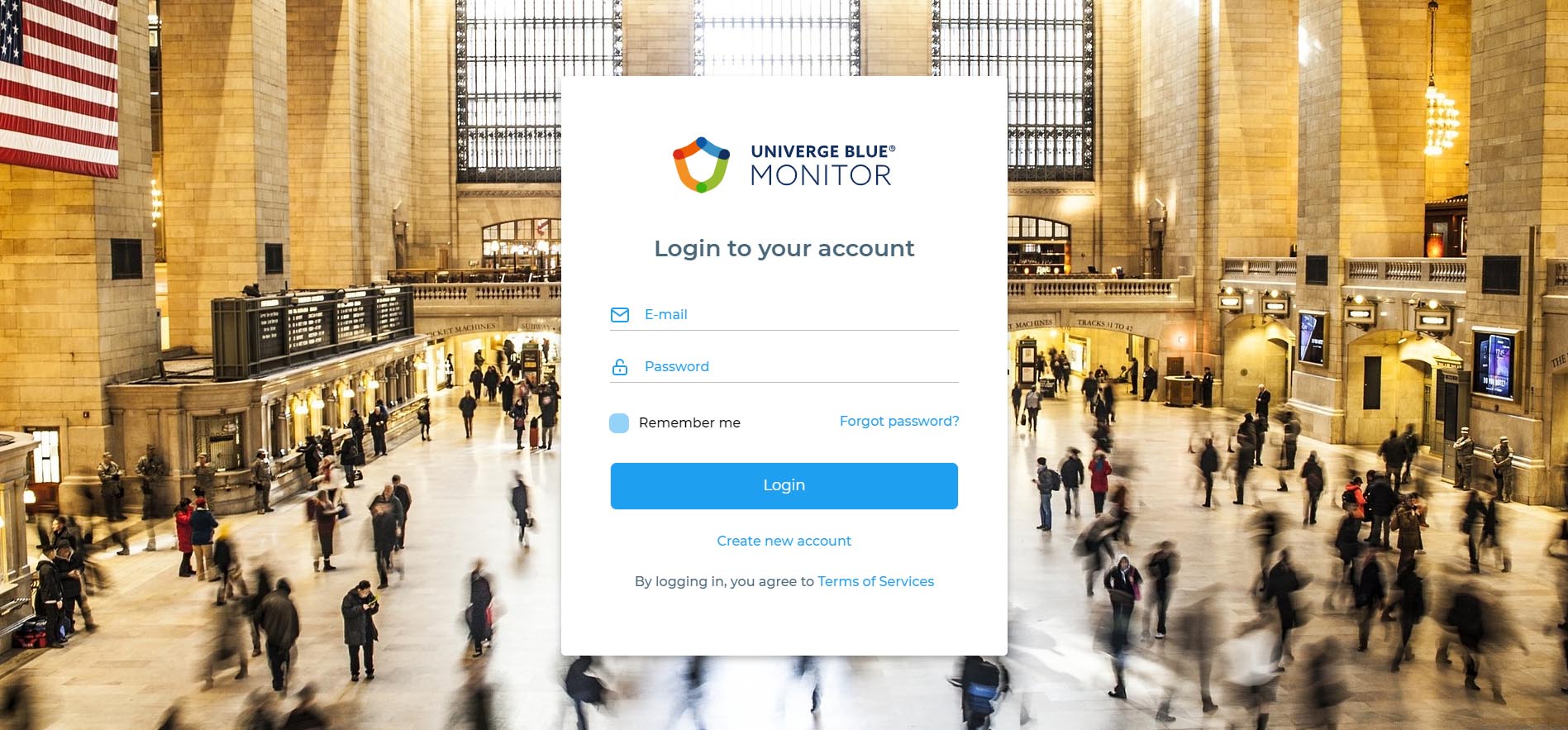 Home Login: https://nec.bluemonitor.net/
Credentials for Login to the Dashboard (Users or Dealers):
User Name: Assigned Email Address
Password: User Defined Password (setup from email verification)
Invited Users will receive an email with a link to setup (SET) their password
Dealers can signup Users in their Management Portal. When a user is setup an email will be sent asking them to "SET" their password.
Remember Me – Set a cookie to retain email and password
Forgot Password – Redirect to a new site to reset your password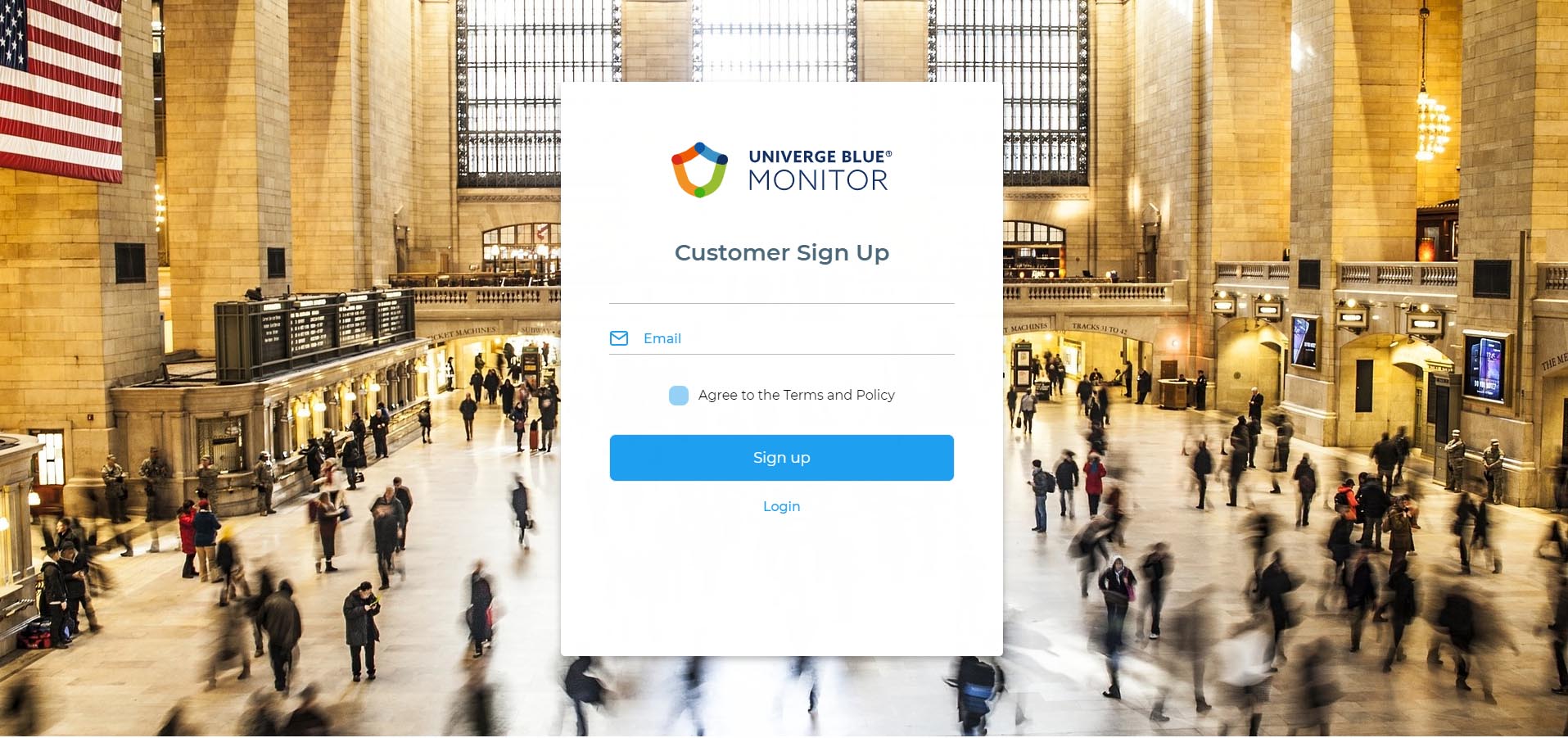 Create a new account – Users can request to have a new Customer Account setup. *Dealers can also Setup Users in the Dealer Management Portal.
Dealer UID – This is the Unique Dealer ID that will attached End Users to the respective Dealer Portal for Management and Troubleshooting services. If you do not know the Dealer UID, Contact your Account Representative or Use the Contact/Support Link
Email – Enter the User Email Address that will be used to Login to The User Dashboard
Agree to the Terms of Service – Select this button to Accept the Terms of Service and Policy of UNIVERGE BLUE MONITOR.
Dashboard Pages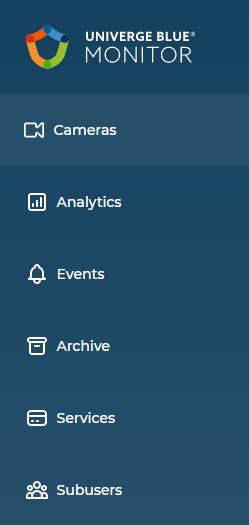 You can View
Camera View – See all your cameras and watch LIVE View. You can also modify camera settings and see your Camera Organizational Directory
Profile / Logout
Events – See and sort your Motion and Audio Events of each Camera
Archive – Permanently store, share your Video Clips from the Cloud
*Services – Add monthly services to each of your cameras
Home Page

Home Page:
Navigate to All Pages
See your Camera Location Grouping
Logout of the Dashboard
Camera Thumbnails
Camera Thumbnails
From the Home "Camera" Page you will see Static Images of each camera. These images will update during login with a thumbnail of a current image from the camera.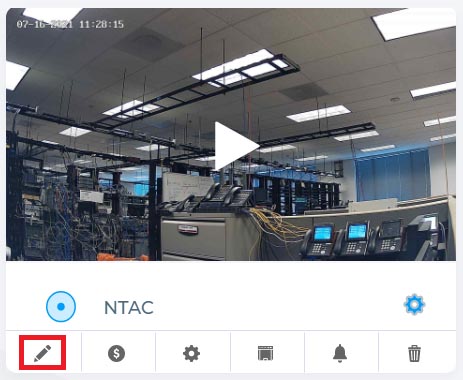 Play Icon
You can see LIVE Video by selecting the white Play icon in the Thumbnail image
Status Icon
The Status Icon (Next to the Camera Name) if Blue – the camera is online/recording
Gear Settings Menu
If you select the Gear Icon on the Toolbar – you will get a drop-down menu of further settings
Gear Settings Items:(Select the Gear Icon)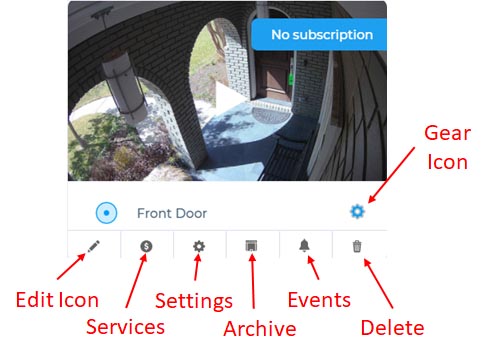 Edit – This will allow you to change the Name of the Camera
Services – This will navigate you to the Monthly Service Plans that you can attach or change on your camera (see Service Plans Topic)
Settings – This is where you will change your Video, Audio, and Motion Settings (see Camera Settings Topic)
Archive – This will create a new video clip to be permanently stored in your archive (see Archive Settings Topic)
Events – This will navigate your to the Events Page and sort events by this camera (see Camera Events Topic)
Delete – This will permanently delete the camera from the Cloud Account
Camera Settings Icon
Under the Camera Settings Icon there are 2 Tabs:
Video: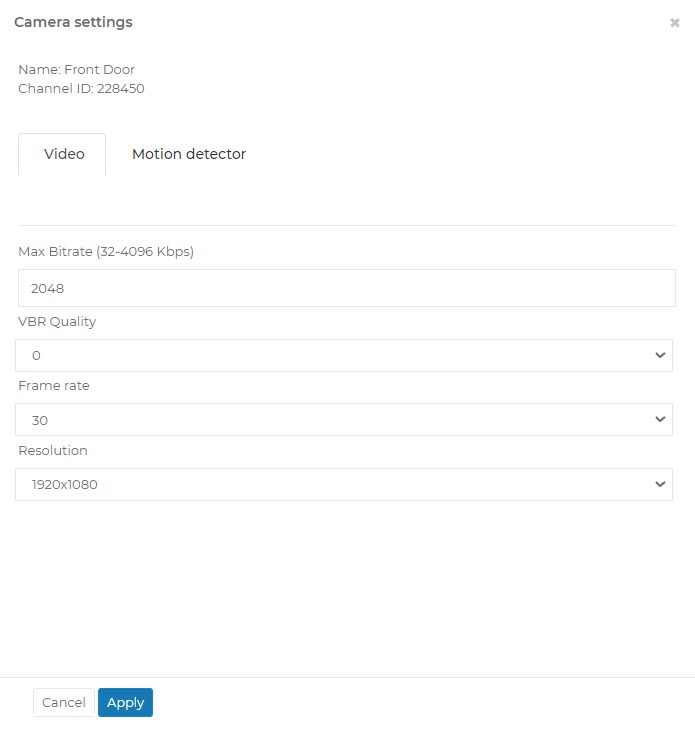 Max Bitrate – This sets the bandwidth used by the camera. By Default the optimal Bitrate is 2048 and we do not recommend changing
VBR – (Variable Bit Rate) Default is 0. Higher numbers will provide a better video contrast but reduce clarity
Frame Rate – Higher the Frame Rate the more images that will be streamed per second. More frames will increase bandwidth and can decrease image clarity
Resolution – pixels supported by the camera imager. Typically the higher the pixel count the more clarity
Motion Detector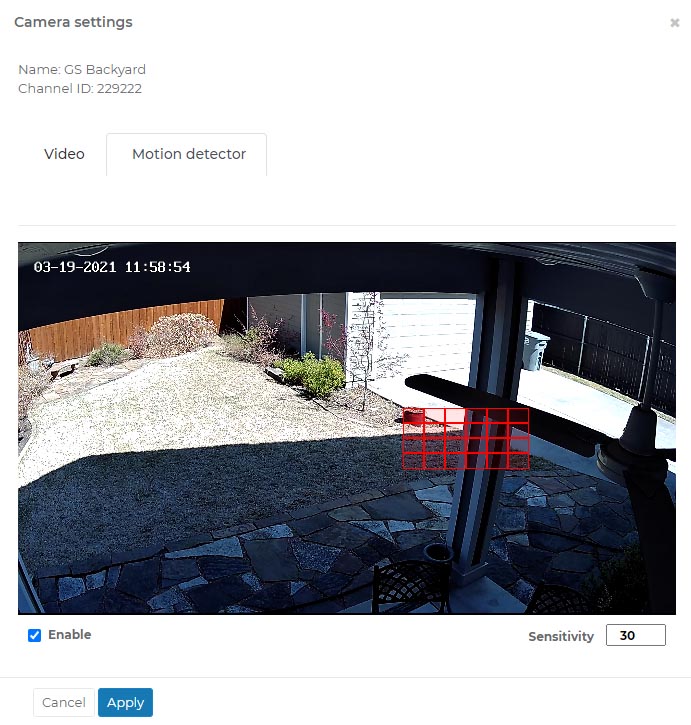 Enable – Turn ON if you want to Detect Motion Alerts
Set your Motion Detection area by Pressing and Holding the Left button on your mouse while dragging over the Image. The area in the Red Boxes will be the Motion Detection Area. Press Apply to save
Reset Motion Area – Pressing and Holding the Left button on your mouse while dragging over the Image previously set with the red boxes. Press Apply to Save
Edit Icon

Edit Camera Name and Directory
Name – Set a Name to your Camera
Location – This organizes cameras into groups or locations for easy reference
Type –
Events Page
Events Page
Quick Reference to see all of your recorded Events
Events will only be stored for as long as your Monthly Service Package recording duration
Select a Camera in your directory location list to narrow down and sort your camera event results
Use the Search Bar to enter a Camera Name to view Events from that camera
Add a Filter to search events by Time and Date
Scroll up/down to see Time and Dates of all Events on the Page
Archive Icon –

Select the Archive Icon to move the Event to your Permanent Archive
The Date and Duration of 1 minute will be set for the Video Clip. You can change the length of your clip by selecting and changing the parameters in the time window.

*Events will only be stored for as long as your Monthly Service Package recording duration. Move any Events to your Archive if you would like to Permanently store them.
Archive Page
Use your Archive Page to Permanently Store you Video Clips
Features:
The Archive can be used for permanent storage
These video Clips will only be deleted by the User
Retain Clips longer than your service plan
Select a Camera under your Location Groups to Short Clips by Camera
Download Clips to your local PC
1 GB of Storage is provided Free
Add Additional storage when needed.

Monitor will show how much storage of your Storage Package has been used
Use the "Need More?" Icon to purchase additional storage
Additional Storage is available in: 10 GB, 100 GB, 500 GB & 1 TB sizes

View Clip Storage Size and Duration on the Blue Tab overlaid on the Image Thumbnail
Download Clips to your local PC or Network Drive
Select the Share Icon to generate a custom URL. Provide this link to outside parties to download the Video Clip.
You can select 30 Minutes, 1 Hour, or 12 Hours. The URL will expire after the time selected and outside parties will not longer be able to use the URL Link
Services Page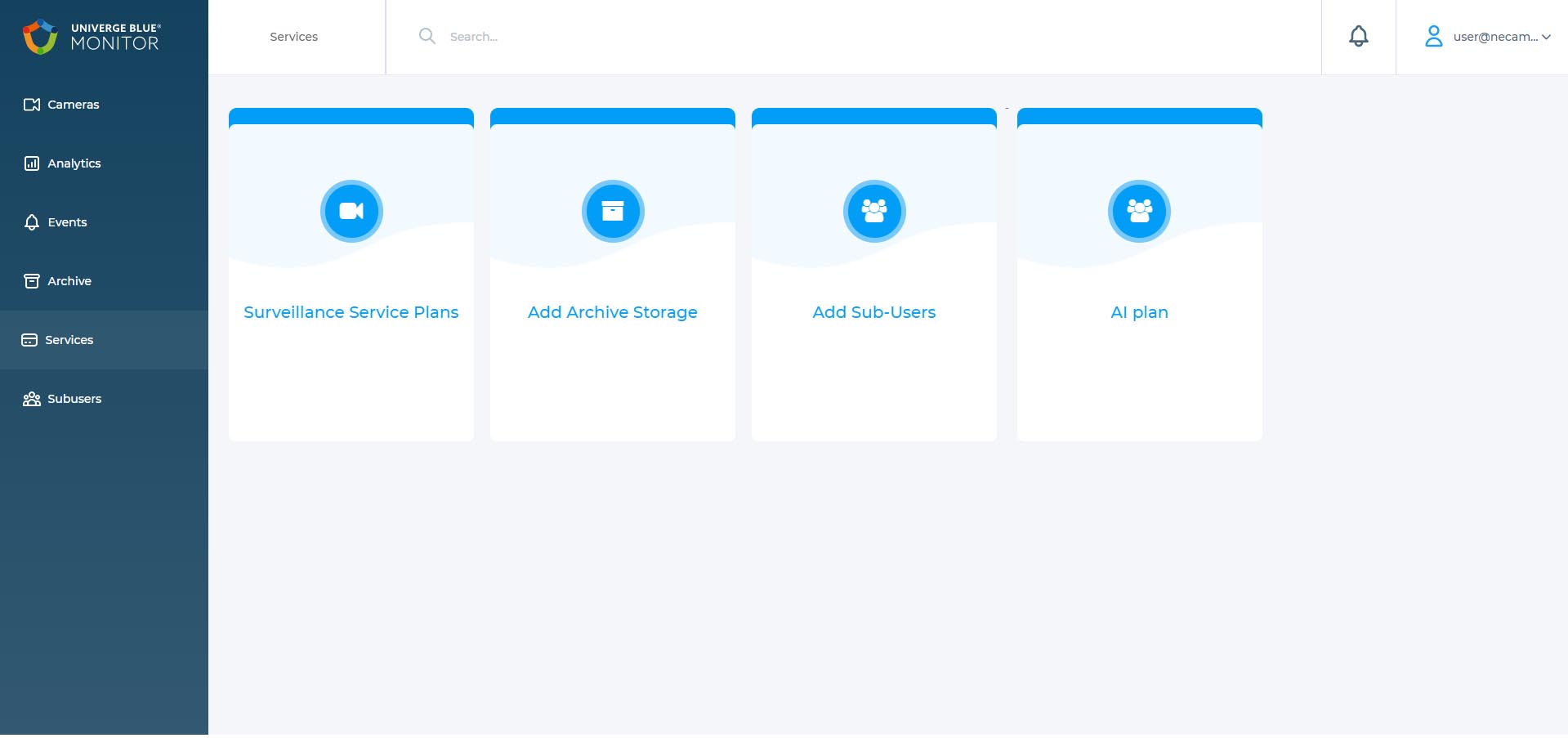 Use the Services Page to Attach a Monthly Service Plan to your Camera(s)
Select the Type of Service that you would like to add to your Camera

Service Plan These are your Monthly Recording Packages. One of these plans has to be added to your camera (Unless you are using the BLUE Server)
Archive Storage – This is optional storage that can be added to your Archive Page. Archive Storage is shared between all cameras and video clips in the Archive.
Sub-Users – Optional user accounts that can be used to provide controlled access to non-admin uses with new credentials.
AI Plan – Add optional AI plans to a camera

Select the Camera(s) that you would like to attach a Service Plan
You can select multiple cameras at one time
A Selected Camera Thumbnail will turn Blue and have a Check Mark
After you have selected the cameras that you would like to add a Monthly Service Plan to – Select NEXT
NOTE: If you select multiple Cameras at One Time – All Cameras will get the same Service Plan. If you would like each camera to have different plans, select cameras individually
2. Choose your Plan
Select the box of the Plan that you would like to attach to your Camera(s)
You will have options with price breaks for multi-month plans
Select NEXT
3. Verify your Cameras/Plans & Enter Address Information
Verify that the Correct Plan is Added
Verify that the Correct Cameras are Added
Enter Billing Address for your Credit Card
Select Next
4. Enter your Billing Information
Verify that your Camera Quantity and Price have been added correctly
Enter your Credit Card Information
Select Next
NOTE: Our Payment system is audited by a PCI-certified auditor and is certified to PCI Service Provider Level 1. This is the most stringent level of certification available in the payments industry.
Invite Email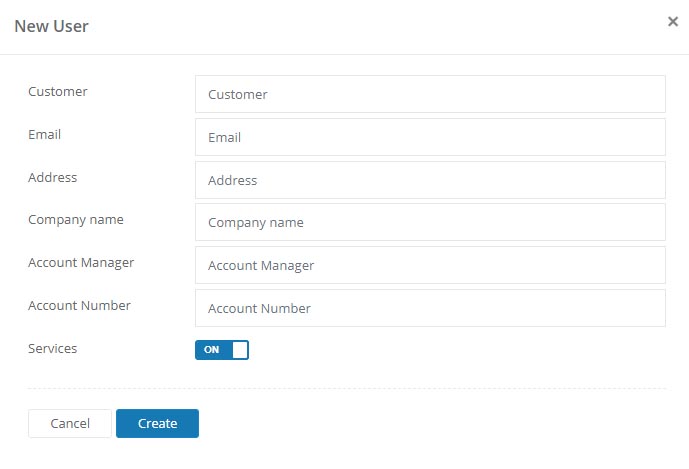 Partner Login: User Page select "ADD" Button
When aPartner Creates a new User an Invite Email will be sent to the email entered in the Add User Account
The Invite will come from BLUE MONITOR with the Title "Sign in to BLUE MONITOR"
In the Invite there will be a "SET" Password button that will take the user to their login page where they will create their personal password